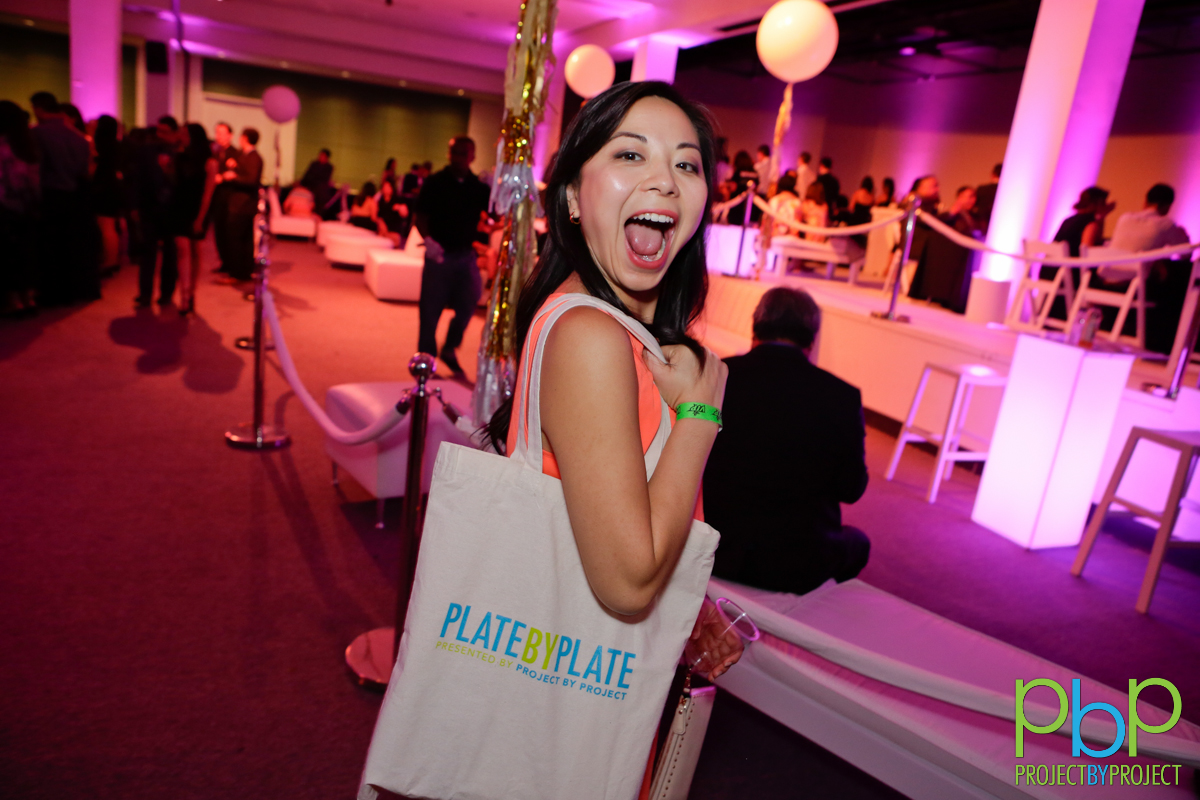 Plate by Plate welcomes you to an elevated dining experience with fancy bites and local cuisines that reflect the heart of Los Angeles. Renowned chefs, exclusive beverage purveyors, and highly decorated restaurants will keep you busy throughout the night.
What are fun things to do beyond eating? What outfit should I wear to this event? Should I upgrade my pass to VIP? How can I find out more about the restaurants? It's a lot to swallow, but we have you covered!
Here are your ten tips to help you best enjoy your annual tasting benefit!
1) Arrive Early!
Early Entry for VIP at the 14th Plate by Plate
With almost 50 restaurants and beverage vendors at Plate by Plate, it's no surprise there will be a huge attendance this year! It's important to figure out the best way to get to City Market Social House early, so you can find the best parking location! Entry begins at 7 PM for General Admission ticket holders (6 PM for VIP), so remember to come early to get the best shot at hitting up all the vendors.
2) Get Your Attire Ready!
Step and Repeat at the 13th Plate by Plate!
Make sure you dress to impress! The dress code is formal, and you are encouraged to make the most out of it. Men can wear a suit with a tie or bow tie. Ladies can wear full-length evening gowns or elegant cocktail dresses. Have you thought of what to wear yet?
Ladies, it's time to bust out your fanciest dress, heels, and statement accessories. Show off your personality with every detail! Gentlemen, you can also use accessories to express your personal style. Instead of a bow tie or traditional tie, you can opt for a necktie with a handsome tie bar or a classy lapel flower.
3) Pack Light!
Guests at the 15th Plate by Plate
Packing light allows you the convenience to easily explore all the different vendors and interact with guests and chefs. As portions of the venue are outside, you'll have to be ready for Los Angeles' sunny summer evenings. The sunset is expected to start around 8 PM, and the temperature is expected to hover around mid-70s°F.
For ladies, we suggest bringing a small purse for your essentials. Clutch bags are not recommended, as you will need your hands to hold the delicious food and drink served at Plate by Plate!
4) Grab Our Booklet!
Program Booklets at the 13th Plate by Plate
Many guests keep our program booklet for memory, but it also contains lots of useful information about your Plate by Plate experience! It will include the most updated list of participants, and a detailed map of the event, so take a look first to plan out your food adventure!
Be sure to also use the program booklet to find out where the Silent Auction and Photobooth will be!
5) Sample Strategically!
Spoonfuls of "So Cali" from Mainland Poke at the 14th Plate by Plate
Plate by Plate features many top restaurants in LA. With almost 50 restaurants and beverage vendors, it may be difficult to decide what to try first. Do your research prior to the event, so you can navigate the venue with ease! This years' participants include Patina, Broken Spanish, Otium, Tsubaki, Alexander's Steakhouse, Faith & Flower, Sotto, Wolf, Rossoblu (VIP only), Republique (VIP only) and many more! See the full list of restaurants here!
Come to the event hungry! Plate by Plate starts from 7 PM (6 PM for VIP) and ends at 10:00 PM, so you should have enough time to sample everything.
6) Stay Hydrated
Baldoria Bar + Kitchen serving bottled cocktails at 15th Plate by Plate - Los Angeles
August in Los Angeles is known for its scorching weather. Thus, it might get warm on the outdoor patio, so remember to stay hydrated! Check out our beverage vendor list to plan out your refreshments.
7) Follow Our Restaurant and Chef Spotlights!
IG: @PBPLA FB: /ProjectByProjectLA
The best way to stay updated about Plate by Plate is to follow us on Facebook and Instagram! Don't miss our current series of Restaurant and Chef Spotlights that gives you a closer look at what you're about to experience on August 4th! We will also announce the location of our After Party – admission is complimentary with your ticket! Don't forget to post your best photos on Instagram during the event, using the tag #platebyplate2018.
8) Upgrade to VIP!
Dry-aged ribeye carpaccio with whipped egg & ikura from VIP four-course tasting by Scratch Bar & Kitchen at the 14th Plate by Plate
Think you need more time to sample everything? The VIP pass gets you access to the event one hour earlier than General Admission guests. VIP exclusive food & libation purveyors:
Come early to see our award-winning chefs cooking in action, and leave with a VIP goodie bag filled with items from our participant restaurants and community sponsors! VIP tickets also include access to the After Party and everything available to General Admission guests!
9) Don't Forget to Network!
VIP Lounge at the 15th Plate by Plate
One of the best things to do at Plate by Plate is to connect with other guests!
As Plate by Plate is a fundraising event organized entirely by volunteers, we are proud of the passion and dedication that all our members bring, not just at our annual tasting benefit but also throughout the entire year planning and organizing for our cause.
The net proceeds raised from Plate by Plate will be donated to our 2018 beneficiary partner OCA-GLA, and will help families achieve US citizenship through the group's Mentored Path to Citizenship program. Every attendee will be supporting and contributing to our cause.
Guests come for the food, but they stay for the cause! So make sure to chat with other guests, who share your same-minded sense of love for food and philanthropy.
10) Create Lasting Memories!
Photobooth at the 9th Plate by Plate
Snap a picture with your friends in front of our beautiful flower wall, exclusive to this year's Plate by Plate! This is a special night teeming with delicious moments, so let's capture your memories at our Photobooth, complimentary with your ticket!
Want to support Plate by Plate and the cause? Make sure to share your Plate by Plate pictures on Facebook with your friends and on Instagram using hashtag #platebyplate2018. Don't forget to check out other guests' photos!
Tickets Available Now!
Plate by Plate 2018 will take place at City Market Social House on August 4th. Tickets include access to 50 top restaurants and beverage purveyors, photobooth, silent auction, access to the afterparty, and more!
For more information, please visit https://platebyplate.org/la/