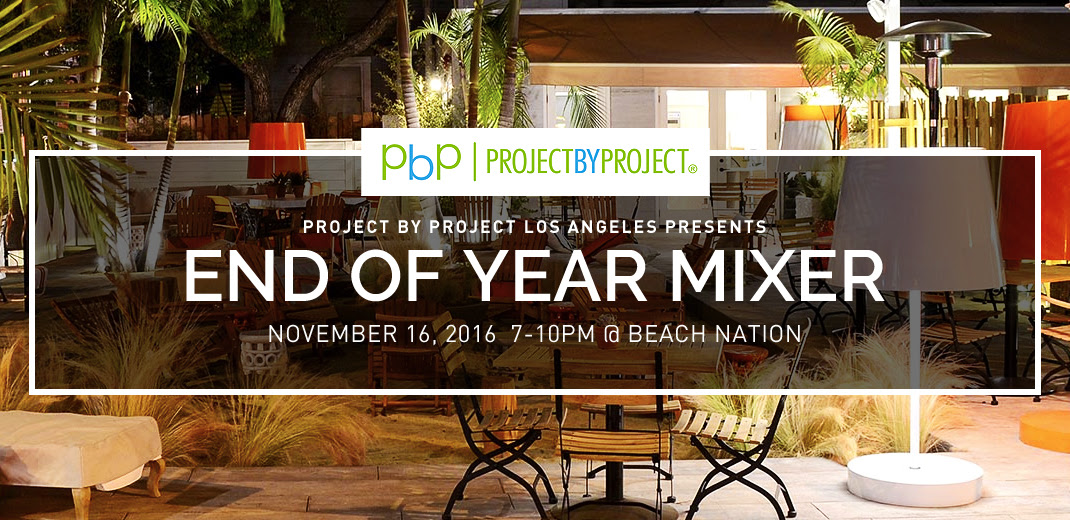 Project by Project LA Presents: End of Year Mixer
Join us at Beach Nation on Wednesday, November 16 at 7-10PM as we celebrate this year's accomplishments with our beneficiary partner, APAIT. Come meet our current members and learn about what we have in store for our upcoming year.
WHEN: Wednesday, November 16, 7:00 PM - 10:00 PM
HAPPY HOUR: 7:00 PM - 8:00 PM
ADMISSION: $10 suggested donation
WHERE: Beach Nation, 8289 Santa Monica Blvd, West Hollywood, CA 90046
---
AIDS Walk Los Angeles
Join Project by Project Los Angeles and APAIT (APAIT's team code is 2200) at Grand Park in Downtown LA on October 23 for the 2016 AIDS Walk Los Angeles. AIDS Walk Los Angeles is a 6.2-mile fundraising walk that benefits APLA Health primarily. The event also supports more than 20 L.A. County AIDS service organizations through the Community Coalition Initiative (CCI), including APAIT. The walk will take about 2.5 hours to complete. There will be celebrity guests, musical artists, elected officials, AIDS activists, and thousands of caring people like you.
---
Join Project by Project New York for their annual Plate By Plate. The event showcases New York City's premier restaurants and is attended by over 200 food and wine loving guests who look forward to sampling what the city's best has to offer. It has been featured on Bravo TV's hit reality show, Top Chef, and MTV-K, as well as some of New York's best culinary publications. You'll also have the chance to interact and mingle with the city's best chefs and bid on a wide array of silent auction items.
All net ticket proceeds will be donated to Plate By Plate NY's 2016 beneficiary partner National Queer Asian Pacific Islander Alliance (NQAPIA)
DATE: Friday, October 21, 2016 WHEN: 7-10PM EDT WHERE: Metropolitan Pavillion 125 W 18th St New York, New York 10011
ATTIRE: Black Tie
---
Community Event: 23rd APEX Awards Gala: Moonlight Masquerade
Join APEX for our 23rd Annual Awards Gala, "Moonlight Masquerade", at the Japanese American National Museum on Halloween Weekend!
The APEX Awards Gala is our biggest event of the year, honoring the contributions of distinguished Asian-Pacific Islander Americans in the community as well as commemorating APEX's accomplishments this season. Join us on Halloween weekend as we celebrate our 23rd Awards Gala, themed "Moonlight Masquerade," at the Japanese American National Museum located in Little Tokyo. 
The night will feature a dazzling masquerade ball with costumed guests, live entertainment, and after-party. This year we are doing away with the extended program so you can have more time to network and rub elbows with friends, celebrities, and community leaders, or simply enjoy the museum exhibits and our special silent auction! The gala includes a complimentary hosted bar, hors d'oeuvres, photo booth and caricature drawings.
---

Community Event: 17th Annual APA Community Holiday Toy Drive
The APA Community Holiday Toy Drive & Reception is a non-profit event that strives to provide toys for low income families in the Los Angeles Asian community. This year the toy drive will be held on Thursday, December 1st from 6-9PM at the Japanese American National Museum. Guests either donate a toy worth $20 (or more) or pay $20 (or more). Admission includes food, beverages, desserts, entertainment, and access to the museum's exhibits. For more information, visit apatoydrive.org.
---
Volunteer of the Month: October
Wilson Kin lives his day to day life as an account manager at an website company. He works out in his off time to maintain a semblance of health while enjoying various local cuisines & libations just a bit more guilt free. Wilson also enjoys dabbling in photography. You can usually spot him with a retro looking Fujifilm camera during his weekend outings. This is his first year volunteering with PbP (credits to Patrick Lee, his cousin, for introducing Wilson to the organization)!
---
Huupr is a new way to earn cash rewards by sharing your favorite places and trying new products with your friends and family. As one of Plate by Plate's donors, they have offered to contribute a $2 donation to Project by Project LA for every download.
Available in the Apple App Store and the Google Play. Download Huupr: https://www.huupr.com/events/pbp
---
Support Project by Project Los Angeles through the Amazon Smile Program! When you shop through our link, a percentage of your purchase will be donated to help out our organization.
---
Thank you for supporting Project by Project programs and partners! If you would like to help, please click the button below.
---
Don't forget to follow Project by Project LA on social media!

---
Thank you to The Great Company for sponsoring GreatCo HQ as our 2016 meeting space. Find out more about The Great Company.
---
Copyright © 2016 Project by Project LA, All rights reserved.
Our mailing address is: Project by Project LA P.O. Box 7093 New York, NY 10116